I originally made this post for a blog I share with my sister that's dedicated to our projects and things we find pretty.  This morning, I read the posting again and realized it doesn't zen with the other bits - it's too angry.  So, I renamed it "Angry Kitchen" and moved it here. 
I'll do a new one next Monday.
……….
In an effort to be healther I've attempted to integrate more veggies into my diet.  And by "healthier" I obviously mean "lose weight" because if I were already thin I'd be eating cheeseburgers, not cauliflower.
This is difficult, because I'm not a huge fan of vegetables. I'm a huge fan of York Peppermint Patties and gummi bears - but those aren't exactly a celebrated part of the food pyramid.
Anyway, I decided to kick-off my healthy cooking extravaganza with something that sounded like it might not taste like crap. Enter the Jamaican Curry Baked Caluiflower.
Here is the recipe: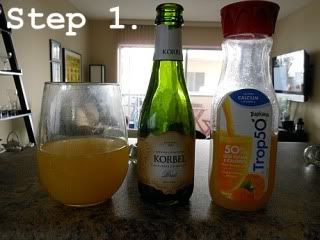 Make a mimosa. You're going to need it because cooking is super frustrating.
Then, preheat the oven to 425°F.
Grab the giant head of fresh cauliflower and hack into it with various cutting instruments until you finally find the one that actually gets through the tough cauliflower stem.
Then, break the head into medium-sized florets.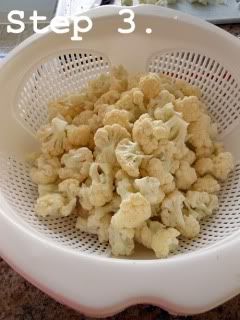 Take your perfectly medium-sized florets and throw them into a strainer.
Give the cauliflower a good rinse.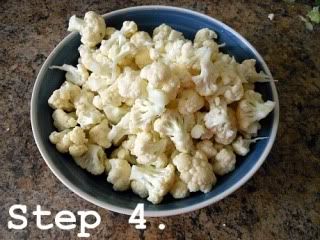 Move the florets into a bowl to ready for mixing.
Realize the first bowl was waaaaaay too small for mixing and move your florets into an ACTUAL mixing bowl.  Add previous bowl to your growing pile of dishes because you keep getting things wrong.
Pause for 15 minutes to bandage your finger because you sliced it while trying to open the olive oil.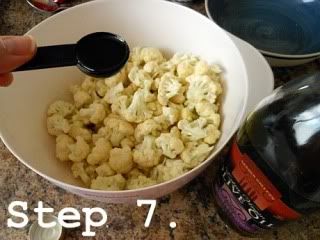 Recover from your injury and measure out 3 Tbsp of olive oil.
Spread evenly over the florets, pausing between tablespoons to mix the bowl.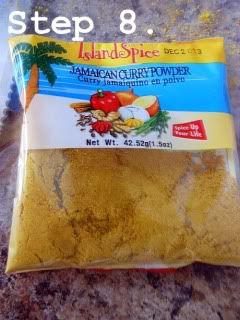 Spend 4 minutes rummaging through your cupboards looking for the curry powder your friend gave you as a souvenir from her cruise to Jamaica.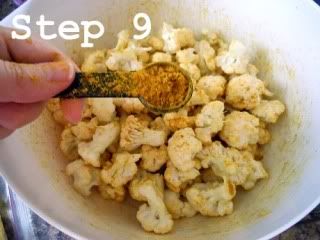 Add 2 Tbsp of the Jamaican Curry Powder.
Again, pause between tablespoons to mix the powder evenly over the florets.
Stop everything to wipe the counter down a little, since the curry powder exploded everywhere.
Also check the floor - because surprise, surprise - it got there too.
Spread the seasoned cauliflower evenly on a baking tray.
Add about 1 tsp of salt (or to taste) and pop the tray into the oven for 35 minutes.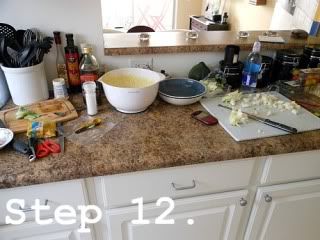 While the cauliflower is baking, take a quick snapshot of how messy your kitchen is so you can show your boyfriend how hard you worked.
On a sidenote, always keep your blackberry right in the center of everything, for easy access in case of an emergency.  For example: tweeting about your cut finger.
Halfway through the baking time give the cauliflower a quick stir to allow for even carmelization. Pop back into the oven.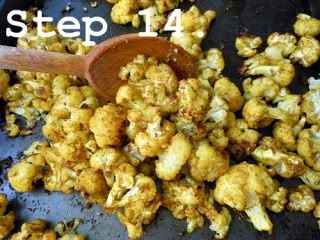 When finished, take a close-up picture of your cauliflower to prove you were totally successful.
Eat!
End Result:
This shit is awesome. It tastes nothing like cauliflower and everything like junk food. However, your apartment WILL smell like armpits for the entirety of the baking process - so definitely keep your windows open.
Recipe Breakdown:
Prep Time: 15 minutes (Minus the mimosa prep and the finger injury.)

Cook Time: 35 minutes

1 Large Head of Cauliflower

3 Tbsp Olive Oil

2 Tbsp Jamaican Curry Powder

1 tsp Sea Salt

Preheat oven to 425°F.

Break the cauliflower into medium-sized florets and wash thoroughly. Move the florets to a large mixing bowl and combine olive oil, curry and salt. Mix well.

Spread the florets evenly over a baking tray and bake for 35 minutes (do not grease the tray). Halfway through cook time stir the florets, allowing for even carmelization.

Enjoy hot or cold!